I want to be a police officer, how do I prepare?
Do you want to be a police officer? What do police do? How much do police get paid?
Let's take a look at the role of a police officer and how you can best prepare to be a more confident applicant through studying with CLET.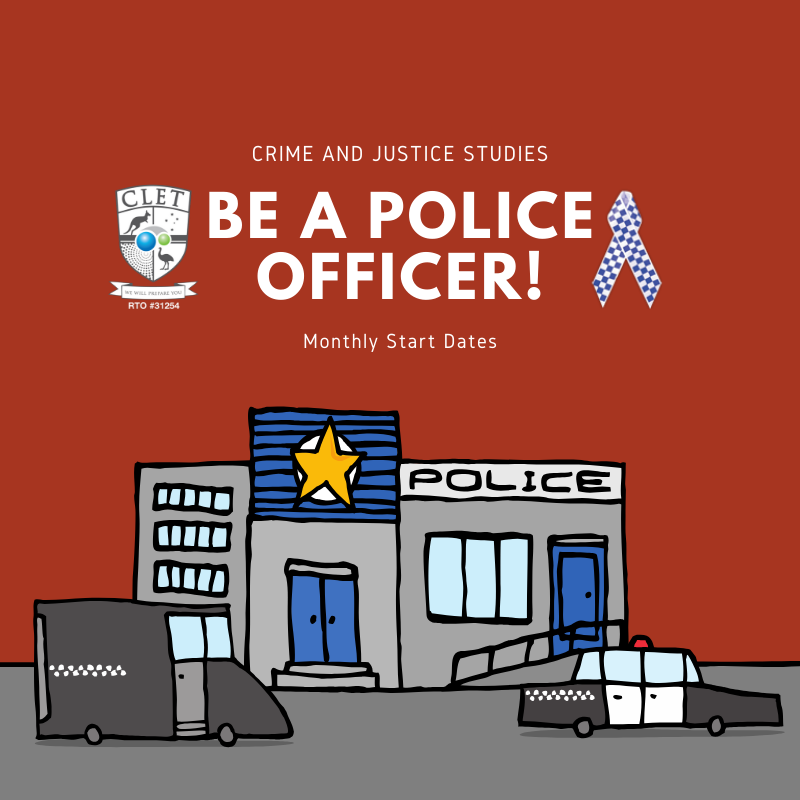 Are you looking for a career change or maybe this is your first full time job, police are paid well from the start and have very attractive conditions.
What are Police Officers required to do?
Policing is very much a team environment and you will work with many exceptionally talented and dedicated people with many and varied personalities. When you start you will be required to:
General
Complete recruit training
Ongoing professional development
Wear a load-bearing vest and carry a firearm and many other accoutrements such as capsicum spray, taser, baton, handcuffs, radio, torch, body worn camera
Wear a uniform (unless in a role that does not require a uniform)
Conduct foot patrols
Talk and interact with the public, including people from different cultural backgrounds and religious beliefs
Attend fights and domestics
Watch-house duties, monitoring offenders in custody and taking fingerprints
24 hour shift work
Work alongside other Emergency Services
Work in specialist areas, generally when you are more experienced, and there are many
Traffic Duties:
Drive a police vehicle
Detect traffic offences and issue traffic infringement notices
Conduct random alcohol and drug testing
Direct traffic at intersections, road works and traffic hazards
Attend and investigate car crashes (some may have serious injury or be fatal)
Investigations:
Investigate crimes
Record notes when you attend an incident
Look for missing persons
Conduct recorded interviews of suspects
Interview witnesses and take statements
Arrest offenders
Identify, protect and secure crime scenes
Locate, manage and secure evidence
Prepare briefs of evidence
Liaise with police prosecutor and at times defence solicitors
Attend Court and give evidence
Administration:
Use computers and write many incident reports
Perform administration duties and answer public enquiries in station
Talk to the public over the phone and offer advice and take incident reports
Policing has its challenges:
Policing has a rank structure, so you will be required to follow directions and be respectful
Attend incidents where people are violent and affected by drugs and alcohol
Manage abusive and disrespectful people
Manage and assist people with mental illnesses
Work in floods, fire and cyclone areas (if applicable to where you work)
Attend incidents where people are emotionally distraught
Attend incidents where people have died
You may need to tell someone a loved one has died 
You will see things others who are not police do not see
Attend an autopsy
The police culture is unique and does present with it own challenges
Be accountable for your actions, on and off duty
Live away from family and friends or in remote areas of the country 
If you wish to enter the Australian Federal Police and are stationed in the Australian Capital Territory, the AFP perform the same duties as the State Police and your role will include everything that is listed above, plus more. However, if you work in any other State or Territory with the AFP you will focus more on Commonwealth Offences and investigate and prosecute offences committed against the Commonwealth in areas such as:
organised, corporate and computer crime
environmental offences
drug trafficking
fraud
counterfeiting and terrorism
and people smuggling
This can also include policing airports and attending to family law matters. In addition, the AFP has an active involvement with overseas law enforcement agencies and liaison posts in many countries, providing many opportunities to work overseas as your experience grows.
What are the qualities of a good Police Officer?
Police officers are special people doing a tough job. At CLET we believe that policing is the most important paid job in our society. Without our police there would be anarchy. So what qualities do good police officers have?
Good Police Officers:
Put others first
Participate in ongoing professional development and eager to learn
Self-confident and understanding of their emotional intelligence (ability to understand and manage your own emotions, and those of the people around you. People with a high degree of emotional intelligence know what they're feeling, what their emotions mean, and how these emotions can affect other people.)
Present in uniform professionally at all times
Know their strengths and work on their weaknesses
Have critical thinking and observation skills
Have a high level of integrity, are trustworthy and honest
Good team members and work well with others
Patient and adapt to change
Resilient, have an open mind and are non judgemental towards others
Are empathetic, especially towards those who struggle in life
Are assertive without becoming aggressive
Are willing to step up even when exhausted
Actively manage stress and seek assistance when things get you down
Practice good time management
Are willing to follow directions
Prepared to manage abuse and disfunction from others 
Have a willingness to work 24 hour shift work
Complete paperwork daily
Pay attention to detail
Maintain fitness
Are a good role model for others
Are willing to use force on others when legally necessary
Caution when it is not necessary to prosecute
How much do Australian Police get paid?
The average starting salary of a Police Officer in Australia is around $60 000 - $70 000 per year (depending on the State or Territory) and increases yearly according to your rank at the time. Not bad for a starting wage.
How can CLET help?
CLET has been preparing our students to be the best applicant they can be for over 14 years, where they present for the selection process with more confidence and with a relevant Nationally Recognised Qualification that indicates to recruiting staff they are serious and committed to becoming a police officer and are motivated. To date, more than 400 CLET students have successfully navigated their way through the selection process and entered the police academy in all Australian State and Territory Police jurisdictions after completing one of our suggested courses. 
The goal is to prepare students at a higher level of understanding where they will enter this career with their eyes open to the realities and trauma that can be associated with being a police officer, including being prepared for testing. The CLET Certificate IV in Crime and Justice Studies (10283NAT) provide a strong understanding of the criminal justice system, the relevant criminal law and how laws are made, social issues, expected workplace behaviour and how to complete court documents. Diploma of Crime and Justice Studies (10284NAT) students will also cover victimology, investigations, correctional issues and more. They may also use their Diploma for entry into a relevant university degree if they wish to further their studies.
CLET has received feedback from many of our students who studied our crime and justice courses prior to entering a policing career. They consistently say they were able to hit the ground running in the academy as they already had an good understanding of many of the subjects covered in their training. They go on to say that with this understanding they were confident and settled into academy life quicker.
CLET police preparation courses Include:
Crime and Justice Short Program (for the more experienced)
10283NAT Certificate IV in Crime and Justice Studies
10284NAT Diploma of Crime and Justice Studies
In addition to studying one of the above courses, CLET provides you with an employment preparation area when you finish your studies to prepare for psychometric testing and police interview.
Other Employment Options:
Our Crime and Justice Studies students have also reported they have successfully secured employment in the following areas:
Correctional Officer
Border Force
RSPCA Inspector
Legal Support - law firm
Government Administration Roles
Ranger
Useful links
If you wish to study with CLET to achieve a policing career, always check you satisfy ALL entry requirements before enrolling into a CLET course. These can include: age, citizenship/residency, drivers licence, criminal and traffic history, medical and fitness requirements, plus others.
Australian Federal Police Recruitment
Western Australia Police Force Recruitment
South Australia Police Recruitment
Northern Territory Police Recruitment
Posted by
CLET
on 06/02/2020
Share this:
---