LLN testing for new students
From the desk of CLET's Managing Director Allen Williams.
Language, Literacy and Numeracy Testing
There is an expectation on RTO's to ensure that students have enrolled in the most approapriate course for them and they have the necessary access to equipment and general skills, such as typing and the core skills needed to succeed, such as those from the Australian Core Skills Framework (ACSF).
If you are not aware of the ACSF and wish to work for a good RTO who refers to them, here is the link to download: https://docs.education.gov.au/node/37095
Basically, the ACSF provides guidance on the FIVE core skills students will need to successfully undertake an accredited training course with an RTO. These FIVE core skills are:
Learning
Reading
Writing
Oral Communication
Numaracy
The ACSF is described as:
'These skills are seen to be essential for individuals to participate effectively in our society. They are inextricably interwoven into all parts of our lives, being directly or indirectly linked to the physical, social and economic wellbeing of individuals, workplace productivity and safety, community interaction and capacity, and ultimately to Australia's economic and community wellbeing. The ACSF reflects contemporary use of English in Australia (ACSF 2012).'
As an RTO we must always refer to the Standards for RTO's 2015 to ensure we comply with everything government.
The Language, Literacy and Numeracy skills of new students are part of that requirement, for you to be confident that the student has the skills required to commence and succeed in their chosen course. This is especially relevant in our now vibrant multicultural society with many people coming from backgrounds where English is not their first language.
Under the Standards for RTO's, Clause 1.7 states:
According to ASQA (2018) 'The RTO determines the support needs of individual learners and provides access to the educational and support services necessary for the individual learner to meet the requirements of the training product as specified in training packages or VET [vocational education and training] accredited courses.' To assist RTO's satisfy this requirement, the ACSF can be utilised to recognise and depict a person's ability to execute any of the core skills at a point in time. The Framework's specificity makes it conceivable to distinguish a students strengths and weaknesses and need for support in a particular area (ACSF 2012).
Hence, the support need is determined and offered to the student early on.
With much of the resources developed by government, a level of expertise is required to successfully use the ACSF, it is complicated and mapping to five levels of competency is required for core skills, for each unit of competency, for each course.
With anything complicated, we can be confident that an innovative and skilled private business or company will take on the challenge to help us navigate the complexities of government requirements and in the modern day invest large amounts of time and money to build a technological solution for the industry. However, because private companies heavily invest of offer solutions to our governments regulatory requirements, in a lot of cases, we can value the need to pay for their innovation and services. I thank them, ALOT!
In this case we have seen the birth of the LLN Robot! - That does the mapping and testing for us....
The following image is an real example of our student's LLN Robot results. They are sent an email as soon as they enrol and complete the LLN test online in their own time prior to course commencement. If there are any concerns from their results, we can then offer additional support before they start or make suggestions on a course or maybe a AQF level change, for example move them from a Diploma to a Certificate IV or even lower in some cases.
If you can see the image clearly, the list of numbers on the right side are the LLN Results. for example: 4 4 4 3 3. 1 is the lowest and 5 is the highest for each area. For this example, the first student scored 4 for learning ability, 4 for reading, 4 for writing, 3 for oral communication and 3 for numeracy. Overall a good result and no need for us to offer additional support.
Further down the list I have highlighted one student who scored a 1 for writing ability. This student is contacted by student support and offered additional assistance in writing their first assessment and we also consider alternative assessment conditions such as verbal responses when permitted. But, our goal is to help them build these skills and their trainers are advised.
What level do we use as acceptable? We use level 3 as the benchmark. Our research has shown that, generally, the year 12 curriculum is equivalent to the AQF LEVEL 3 (Certificate III). Then we refer to the entry requirements and ACSF levels of each course and compare to determine additional support needed (if any) depending on the individual students results.
Inside LLN Robot Results: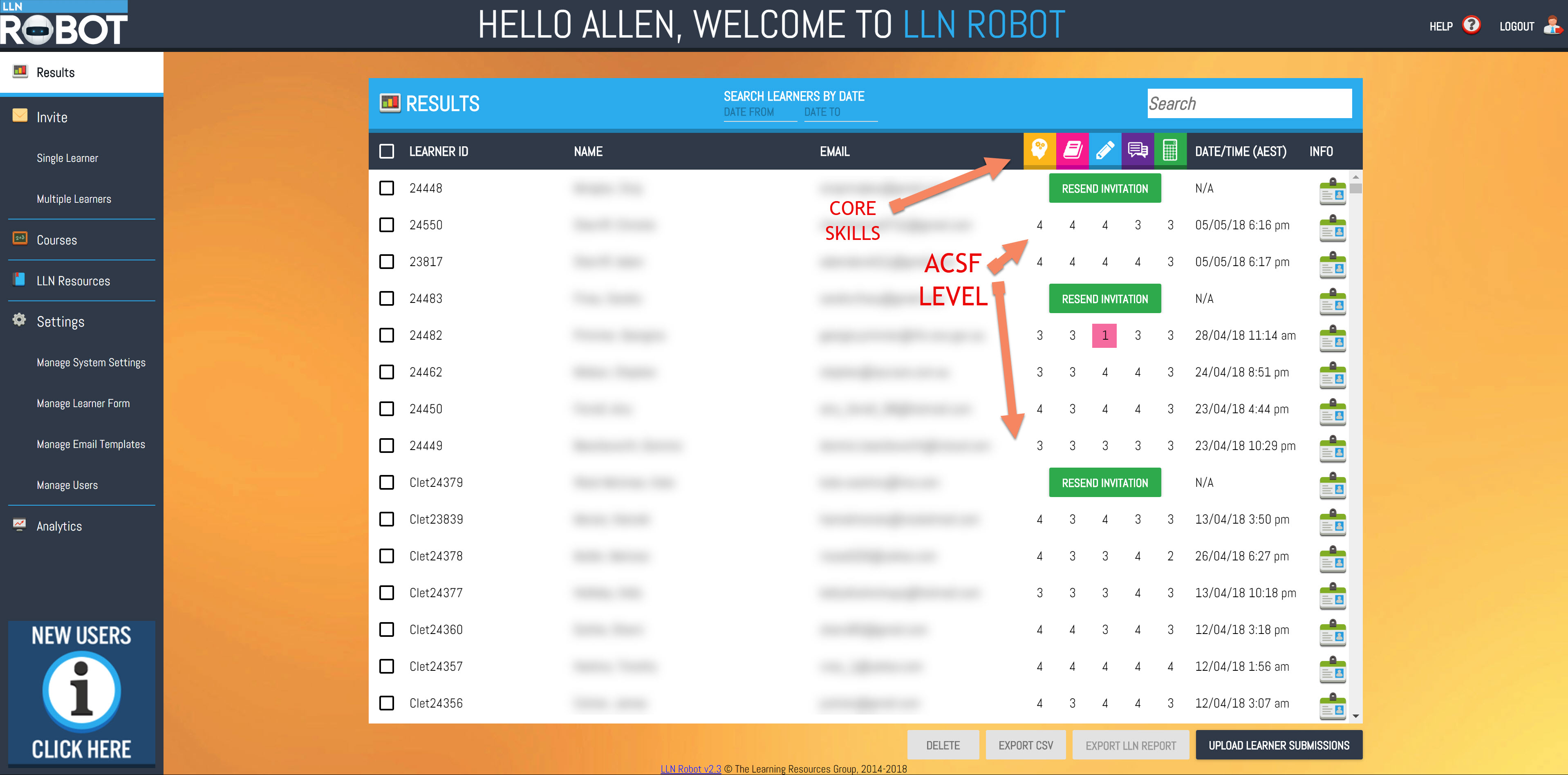 So to connect the use of the LLN Robot with the Standards for RTO's clause 1.7. ASQA (2018) state:
Supporting students
To maximise the chance of a student successfully completing their training, your RTO needs to:
identify any support individual learners need prior to their enrolment or commencement (whichever is the earliest) (see also clause 5.1)
provide access to the required support throughout their training.
This may include providing support through:
LLN support
assistive technology
additional tutorials including online tutorial support
other mechanisms, such as assistance in using technology for online delivery components
If you use a LLN test, consider:
whether the test will be used with all students
how effectively it identifies LLN issues, particularly those that might be specific to the proposed qualification—youmay need to develop tailored rather than generic tests
how to ensure the right staff are involved in administering the tests and making decisions about the support services

the need for guidance to staff on:the expected level of performance that would qualify a student for entry into the course
how to interpret the score achieved
how to identify appropriate support
Here is a short video overview of the LLN Robot:
References:
Australian Government, Australian Skills Quality Authority. (2018).  Clauses 1.7, 5.4 and 6.1 to 6.6—Supporting and informing learners; managing complaints and appeals.  Retrieved from https://www.asqa.gov.au/standards/chapter-3/clauses-1.7-5.4-and-6.1-6.6
 
Australian Government, Department of Education and Training. (2015). Australian Core Skills Framework . Retrieved from  https://docs.education.gov .au/node/37095   
 
Brabin, A. (2018). EMT409, Topic 5, Foundations of Effective TIP Models  [PowerPoint Slides]. Retrieved from  http://www.slideshare.net/shaifolhizam/pp02-3038232   Published 31 January, 2010.
 
Bowes, K., D'Onofrio, A., and Marker, E . (2006). 'Assessing technology integration: Its validity and value for classroom practice and teacher accountability'.  Australasian Journal of Educational Technology, 22(4), 439-454. Retrieved from:  http://www.ascilite.org.au/ajet/ajet22/bowes.html
Posted by
CLET
on 12/05/2018
Share this:
---