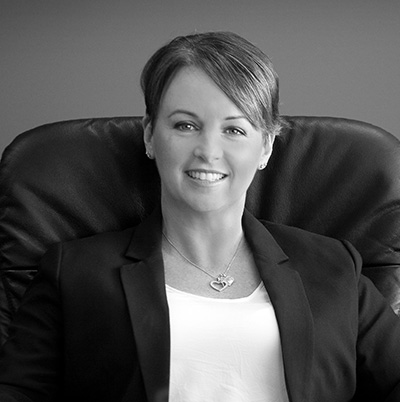 Kate Martin
LLB, BPsychSc, MSocSc(Crim), MBA, MISS, MPICT, MDis&EmergResp
Director / RPL Team Leader
Kate is the Director, RPL team leader and in charge of the strategic development of the college.
As a director, dynamic industry trainer and assessor, a respected and trusted industry consultant, plus a lifelong student herself, Kate Martin understands what skills are required to truly be successful as a student, transition between employment and succeed at a high level in education, government and business.
Currently completing her Doctor of Business Administration (DBA), Kate has presented part of her research called: 'Moving forward – identity work post service for Australian uniformed professionals in the Defence Force, Police and Emergency Services' at the 2019 Frontline Mental Health Conference in Townsville, 2018 Australian & New Zealand Disaster & Emergency Management Conference on the Gold Coast, the Macquarie University Gender, Work and Organisation Conference held in Sydney and the Australian Warrior Expo in Brisbane. In addition, Kate is the ANZMHA Co-Chair of the Program Advisory Committee for the 2019 Frontline Mental Health Conference held in Townsville.
In addition to this study, Kate has completed her Bachelor of Psychological Sciences and an additional five Masters Degrees in Social Science (Criminology), Business Administration (MBA), International Security Studies, Policing, Intelligence and Counter Terrorism and most recently the Master of Disaster and Emergency Response, all studied at five separate Universities.
Kate also holds a Bachelor of Laws and directs the award winning College for Law Education and Training which has operated as a successful Registered Training Organisation (RTO) since 2006.
Further, Kate is a founding member of the exclusive Red Cross Society of Women Leaders and has donated $60 000 of her own money to fund Red Cross Aid Workers both in Australia and abroad.
Kate is an invited member of the Golden Key International Honour Society and was awarded with the Australia Day Medal in 2006 for her work done as a Director in the Queensland Department of Corrective Services (QCS). Kate now facilitates training for the QCS Office of Chief Inspector and is a trainer and consultant for the Victoria Country Fire Authority (CFA), ASIC and DPP.
Kate has an additional 24 vocational qualifications, completed two half marathons, a wife and mother of two amazing and successful adult children and sponsors less fortunate children through the Australian Smith Family and World Vision.
Kate has lectured and worked in Universities, TAFE institutions, private colleges, practiced as a Solicitor and was employed to run the Southport Branch of the Queensland Drug Court before being promoted to Director of Strategic Projects with Queensland Department of Corrective Services. In addition, Kate has traveled to and explored more than 17 countries throughout the world.
With all this education and experience together with a proven track record for success, Kate Martin truly is an inspiration and an example to everyone, young and the more experienced of what is possible if you apply yourself.
Current Study
Doctor of Business Administration (Business Research) - Thesis: Post service employability issues for Australian Police, Military and Emergency Services - (Charles Sturt University)
Higher Qualifications - Master Degrees (Graduated)
2017 - Master of Disaster and Emergency Response - (Edith Cowan University)
2016 - Master of International Security Studies - (Macquarie University)
2016 - Master of Policing, Intelligence and Counter Terrorism - (Macquarie University)
2011 - Master of Business Administration (MBA) - (Charles Sturt University)
2004 - Master of Social Science (Criminology) - (Charles Sturt University)
Higher Qualifications - Bachelor Degrees (Graduated)
2018 - Bachelor of Psychological Science (Psychology) - (Swinburne University)
2000 - Bachelor of Laws - (Macquarie University)
1998 - Graduate Diploma in Legal Practice - (Australian National University - ANU)
International Qualifications - SIA Licencing
2016 - Level 2 Award for Conflict Management for Trainers - (United Kingdom)
Vocational Qualifications - Advanced Diploma
2014 - Advanced Diploma of Government (Workplace Inspection)
2014 - Advanced Diploma of Government (Management)
Vocational Qualifications - Diploma
2019 - Diploma of Vocational Education and Training
2019 - Diploma of Training Design and Development
2016 - Diploma of Business
2016 - Diploma of Leadership and Management
2016 - Diploma of Human Resources Management
2015 - Diploma of Work Health and Safety
2015 - Diploma of Security and Risk Management
2014 - Diploma of Government (Investigation)
2014 - Diploma of Government (Court Services)
2014 - Diploma of Government (Workplace Inspection)
2012 - Diploma of Vocational Education and Training
Vocational Qualifications - Certificate IV
2019 - Certificate IV in Training and Assessment
2016 - Certificate IV in Leadership and Management
2015 - Certificate IV in Work Health and Safety
2015 - Certificate IV in Government (Investigation)
2015 - Certificate IV in Security and Risk Management
2014 - Certificate IV in Government (Statutory Compliance)
2014 - Certificate IV in Government (Court Compliance)
2013 - Certificate IV in Training and Assessment
2004 - Certificate IV in Correctional Practice - (QCS)
Vocational Qualifications - Certificate III
2016 - Certificate III in Business Administration
2014 - Certificate III in Investigative Services
2014 - Certificate III in Financial Services (Mercantile Agents)
Employment
Director - College for Law, Education and Training (CLET)
Consultant - Country Fire Authority (CFA)
Director, Strategic Projects, QCS Directorate, District Manager, Senior Probation and Parole Officer - Queensland Corrective Services
Community Corrections Officer - Queensland Department of Corrective Services
Sessional lecturer - Central Queensland University
Teacher - Queensland TAFE
Solicitor
Tutor in Commercial Law - Australian National University
Teacher - Applied Science - Canberra Institute of TAFE
Aerobics Instructor / Personal trainer
Industry Committees
2019 - Co-Chair – Program Advisory Committee – ANZMHA - Frontline Mental Health Conference
2016 - Industry Advisory Team (Re-accreditation) - Certificate IV and Diploma of Crime and Justice Studies Accredited Courses
2011 - Industry Advisory Team (Re-accreditation) - Certificate IV and Diploma of Justice Studies Accredited Courses
Memberships
Golden Key International Honour Society - Member by invitation
Society of Women Leaders - RED CROSS - Founding Member
Deans list 2015 for achieving top 1% - Edith Cowan University
Industry Awards
Australia Day Medal
Mort Award for Excellence in Teaching - Central Queensland University
Most Outstanding Business - Westpac Gold Coast Business Excellence Awards
Recent Industry Conferences and Expo's Attended
2019 - Frontline Mental Health Conference (Townsville)
2019 - ASIAL Security Conference (Sydney)
2019 - ASQA Training Provider Briefing (Gold Coast)
2019 - Learning Solutions Conference and Expo (Orlando, Florida USA)
2019 - Financial Review Business Summit (Sydney)
2018 - Australian Warrior Expo (Brisbane)
2018 - Gender, Work and Organisation International Interdisciplinary Conference (Sydney)
2018 - Australian Red Cross Society of Women's Leaders Event (Gold Coast)
2018 - Backup for Life Expo - NSW Police Legacy (Sydney)
2018 - Australian and New Zealand Disaster and Emergency Management Conference (Gold Coast)
2017 - The Learning Guild - Realities360 Conference (San Jose California USA)
2017 - Backup for Life Expo - NSW Police Legacy (Sydney)
2017 - Insources VET Summit - VET Policy, Compliance and Funding (Sydney)
2016 - Backup for Life Expo - NSW Police Legacy (Sydney)
2016 - VELG National VET Conference (Gold Coast)
2015 - National Policing Summit (Melbourne)
2015 - VELG VET Summit - (Virtual)
2014 - VELG National VET Conference - (Brisbane)
International Travel
Asia - China (Beijing, Shenzhen, Hong Kong, Xi'an), Singapore, United Arab Emirates (Dubai)
Europe - Austria, France (Paris), Germany (Munich), Italy (Rome, Milan, Venice), Netherlands (Amsterdam), Poland (Krakow, Auschwitz near Oswiecim), Switzerland (Zurich, Geneva, Lucerne, Neuchatel, Interlaken), United Kingdom (London, Lancaster, Liverpool, Wales)
North America - Mexico, United States of America (California - Los Angeles, San Francisco, San Jose, San Diego, Beverly Hills, Napa Valley, Las Vegas, Honolulu, Louisiana - New Orleans, Texas - Dallas, Austin, San Antonio, Fort Worth, Arlington, Colorado - Denver, Estes Park, New York City, Boston), Canada (Toronto, Vancouver, Quebec, Ottawa, Banff)
Oceania - Australia, New Zealand (Auckland, Queenstown, Wanaka, Dunedin), Cook Islands
World Wonders Visited
Asia - China (Great Wall of China, Tiananmen Square, Forbidden City, Terracotta Army, Summer Palace, Temple of Heaven)
Europe - France (Eiffel Tower, Moulin Rouge, Notre Dame, Arc de Triomphe, The Louvre - Mona Lisa, Pantheon), Italy (Colosseum, Patheon,St Peter's Basilica, Sistine Chapel, Vatican Museums, Trevi Fountain), Netherlands (Amsterdam - Anne Frank House), Poland (Auschwitz Concentraion Camp), Switzerland (Jungfrau Summit 4158 m, hiked the Eiger 3970 m), United Kingdom (Buckingham Palace, London Eye, Tower of London, Big Ben, Westminster Abbey, Trafalgar Square)
North America - United States of America (Disneyland, Universal Studios, Alcatraz, Golden Gate Bridge, Fishermans Wharf, Empire State Building, Statue of Liberty, Central Park, Madison Square Garden, World Trade Centre - ground zero, Times Square, Intrepid Aircraft Carrier and Space Shuttle, Pearl Harbour, Wall Street, Grand Canyon, Yosemite - Glacier Point and Half Dome - Giant Sequoias trees, Rocky Mountains, Bear Lake, Bourbon Street New Orleans, Whalburgers, JFK Assassination), Canada (Niagara Falls, Northern Lights)
Oceania - Australia (Opera House, Climbed Sydney Harbour Bridge, Ayers Rock) New Zealand (Skied Remarkables, Cardrona, Coronet Peak, Treble Cone)