Support for our police and emergency services
'Are they Triple OK? Is a great R U OK? Campaign created to increase support for police and emergency services across Australia. This campaign provides information for the community, family, friends, and peers of servicemen and women to assist with having potentially life-changing conversations. It encourages early intervention that begins with the simple question: R U OK?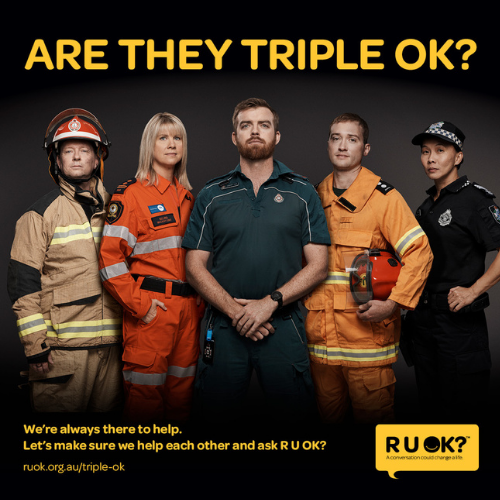 Beyond Blue conducted a study 'Answering the Call' which involved 21,014 police and emergency services personnel. This study showed that they reported having suicidal thoughts twice as often and were three times more likely to have a suicide plan than the civilian population.
The good news is, this same study reported that those who had strong levels of social support reported lower levels of suicidal thoughts despite traumatic events that had occurred in their career.
The first step is identifying that an R U OK conversation is required, and it won't always be obvious. Here are some questions that may help determine if something is going on:
1.      Have you noticed a change in what they're saying?
2.      Have you noticed a change in what they're doing?
3.      Is there something going on in their life or at work?
For more clarity on each of these questions, find the R U OK? Conversation starter guide at the bottom of this page for more information.
The next step is starting the conversation and whilst 'R U OK?' are three simple words, it can often be a daunting task that may not be received very well. So make sure you are ready, prepared and pick the right moment. Once you are ready, simply start with:
1.      Ask R U OK?
2.      Listen with an open mind
3.      Encourage action
4.      Check-in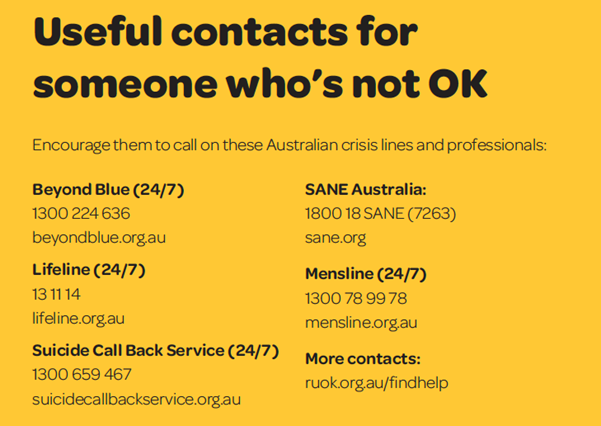 It's okay if they don't want to talk, let them know you are there for them when they're ready or ask if there is someone else they would rather talk to, avoid confrontation, and don't take it personally.
There are lots of feelings that can come up in a conversation like this including sadness, anger, and anxiety. Know that you don't need to know all the answers and be prepared to listen and help guide them to a solution that will be best suited to them. Encourage them to access appropriate support.
If this has been helpful for you and you would like more information, please download this conversation starter guide which is much more in-depth for each point summarised above.
Posted by
CLET
on 08/09/2021
Share this:
---